Welcome to Freedom Eye Care
Eyes are important indicators of overall health, and comprehensive eye care goes beyond a prescription for glasses or contacts. At Freedom Eye Care, we take the time to get to know you, your eye care history, and your vision needs. Our optometrist provides the expert care and follow up you need whether you are a new patient or an existing one.
Our eye doctor and eye care staff are here to care for all of your vision needs. We specialize in the treatment of eye diseases like diabetes and glaucoma, specialty contacts, and dry eye. We handle everything from adult and children's eye exams and hard-to-fit contact lenses, to eye emergencies, and co-management of eye surgery such as LASIK.
Be Our Friend
Keep up to Date
We Are Doctors, First & Foremost
Our Patients Say It Best!
I can't speak highly enough about Freedom Eye Care and Dr. Azadi. Dr. Azadi helped diagnosis an eye disease that I have and has gone out of his way to help me treat it not only at his practice but also with arranging and helping with other specialists as well. Dr. Azadi and his staff are not only professional but also treat you like family, they truly care about their patients and are more concerned about their patients health and well-being than they are about rushing people through for more money. If you are looking at reviews trying to find an eye doctor stop now and just go see Freedom Eye Care today, you'll be happy you did!
- Chris O.
They are very professional and courteous! Thanks so much!!
- shannon d.
It was my first time taking my 5 yr old in to Freedom Eye Care today and it was a great experience. The staff are really friendly and helpful and Dr. A does great with kids and answered all my questions. I was in and out very quickly and got my sons prescription taken care of. I would definitely recommend this place to anyone in need.
- Mary C.
I had a great experience at Freedom eye care the staff was great and Dr. Azadi was amazing i got a new RX for my contacts and my glasses . If you want a great experience and wanna see an awesome pictures of your eyeball go see this guys ❤️
- leti g.
I never take the time to write reviews but this place deserves major Kudos. All of the staff are absolutely wonderful. From your first phone call until you walk out the door. I was blown away with their kindness and hospitality. If your kiddo is nervous about their appointment, please take them here. They will be entertained and comfortable. Also, Dr. Azadi provided a super informative and cool eye examine. I learned alot and it was very thorough. One of the best overall medical experiences I have ever had.
- Kara H.
Dr. Soroush is the best! Caring, genuine, honest and knowledgeable. His office staff is first rate!! Would never think of going anywhere else!
- Keith M.
The doctor was so through with explaining what was going on with my vision and the staff was very friendly. So many selections on glasses and the staff was helpful and patient on my selecting frames. Would recommend to anyone who needs an eye doc!
- Melissa B.
Eye Emergencies
For eye emergencies in Austin, TX don't hesitate, call today. Our eye doctors have the latest technology and lots of experience with eye infections, scratched eye, something stuck in your eye, painful or stinging eyes. We take most medical insurance plans.
Please call our office at: 512-456-9500 for further instructions. Use your best judgment on urgency, if you feel your need to find the nearest emergency room.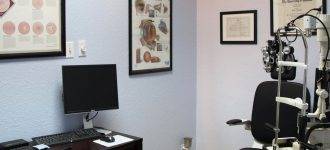 At Freedom Eye Care, our number one goal is to be your provider for medical eye care, contacts, and glasses. Dr. Azadi and his staff are highly knowledgeable and friendly. Our clinic is ready to assist you with all of your eye care needs. Dr. Azadi and his staff are committed to your total eye health and strives to develop long term relationships by providing the highest quality of care in Austin.
Dr. Azadi is a Therapeutic Optometrist and Optometric Glaucoma Specialist who co-manages LASIK and Cataract surgeries. He utilizes the latest cutting edge techniques and equipment to provide preventative and curative care. Dr. Azadi also specializes in contact lens fitting. By using the latest developments in optical technology, Dr. Azadi is able to provide the highest level of eye care in Austin.
Freedom Eye Care is Austin's premier medical and family eye care and optical boutique. With state of the art technology for enhanced diagnosis and prevention, Freedom Eye Care provides a full service experience from the exam to the choice of eye wear. We offer some of the most unique and progressive lines of eye wear from around the world to make you look good, and improve your vision.
What's New + Special Dates
Jan 10, 2018
It's that time of year again. January is National Glaucoma Awareness Month, a time set aside each year to create awareness about this potentially devastating disease. The reason awareness about...
Monday: 9:00 AM - 6:00 PM

Tuesday: 9:00 AM - 6:00 PM

Wednesday: 9:00 AM - 6:00 PM

Thursday: 9:00 AM - 6:00 PM

Friday: 9:00 AM - 1:00 PM

Saturday:

Closed

Sunday:

Closed