Welcome to Freedom Eye Care
Eyes are important indicators of overall health, and comprehensive eye care goes beyond a prescription for glasses or contacts. At Freedom Eye Care, in Austin, TX, we take the time to get to know you, your eye care history, and your vision needs. Our optometrist provides the expert care and follow up you need whether you are a new patient or an existing one.
Our eye doctor and eye care staff are here to care for all of your vision needs. We specialize in the treatment of eye diseases like diabetes and glaucoma, specialty contacts, and dry eye. We handle everything from adult and children's eye exams and hard-to-fit contact lenses, to eye emergencies, and co-management of eye surgery such as LASIK.
Be Our Friend
Keep up to Date
We Are Doctors, First & Foremost
Our Patients Say It Best!
I couldn't be more pleased or satisfied with Dr. Azadi's services. He truly had a sincere concern for my well being and quality of life. He and his staff are consummate professionals. I can't believe how fortunate I am to have him for my eyecare Dr. I challenge anyone who honestly doesn't feel the same way. Thank you Dr. Azadi and your staff for everything you do. God Bless you all
- Santiago F.
The whole office was friendly and professional. Beautiful, clean office.
- Jay F.
Thank you Dr. Azadi for always taking the time to explain everything to me!! I will Refer you to all my family and friends!!! And what can I say About the girls they are wonderful love them!!!
- lali c.
Love Dr. Azadi and all of the staff! Great selection of glasses in all price ranges. I hv found my favorite place for eye exams and glasses.
- Ayanna S.
Staff was super sweet and made everything extremely comfortable. The Doctor was very caring and highly informative. I would go back and bring friends to their establishment. No sales pressure, you could tell they genuinely cared about my health and preference more than money. Great place!
- S L.
Dr. Azardi is my kind of doctor - his eye exams are straight to the point and informative. I never leave feeling the quality of my visit was lacking. In all my years of going to eye exams, he was the first to point out that I have a slight astigmatism. When they told me my new health insurance wasn't covered there, I was still willing to pay out-of-pocket and continue going to him instead of finding some rando within my network. Why mess with a good thing?
- Dolores H.
I was able to get an appointment same day. The staff is incredibly sweet. The customer service provided by the women working up front towards fellow patients while I waited was exemplary. Dr. Azadi was professional and kind. He definitely treated me as a human and not a dollar sign like most eye doctors. He expressed concerns but made sure I was not to spend more than was necessary on medication. The entire experience was well worth 5stars. My husband and I will definitely continue to use this Freedom Eye Care as our primary eye.
- Taylor C.
Eye Emergencies
For eye emergencies in Austin, TX don't hesitate, call today. Our eye doctors have the latest technology and lots of experience with eye infections, scratched eye, something stuck in your eye, painful or stinging eyes. We take most medical insurance plans.
Please call our office at: 512-456-9500 for further instructions. Use your best judgment on urgency, if you feel your need to find the nearest emergency room.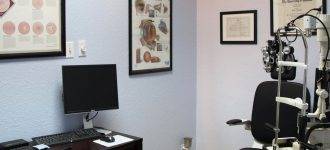 At Freedom Eye Care, our number one goal is to be your provider for medical eye care, contacts, and glasses. Dr. Azadi and his staff are highly knowledgeable and friendly. Our clinic is ready to assist you with all of your eye care needs. Dr. Azadi and his staff are committed to your total eye health and strives to develop long term relationships by providing the highest quality of care in Austin.
Dr. Azadi is a Therapeutic Optometrist and Optometric Glaucoma Specialist who co-manages LASIK and Cataract surgeries. He utilizes the latest cutting edge techniques and equipment to provide preventative and curative care. Dr. Azadi also specializes in contact lens fitting. By using the latest developments in optical technology, Dr. Azadi is able to provide the highest level of eye care in Austin.
Freedom Eye Care is Austin's premier medical and family eye care and optical boutique. With state of the art technology for enhanced diagnosis and prevention, Freedom Eye Care provides a full service experience from the exam to the choice of eye wear. We offer some of the most unique and progressive lines of eye wear from around the world to make you look good, and improve your vision.
What's New + Special Dates
Feb 18, 2018
It's that time of the year again. Each February, the optometric community bands together to create awareness about age-related macular degeneration (AMD). AMD is a leading cause of vision loss...
Monday: 9:00 AM - 6:00 PM

Tuesday: 9:00 AM - 6:00 PM

Wednesday: 9:00 AM - 6:00 PM

Thursday: 9:00 AM - 6:00 PM

Friday: 9:00 AM - 1:00 PM

Saturday:

Closed

Sunday:

Closed